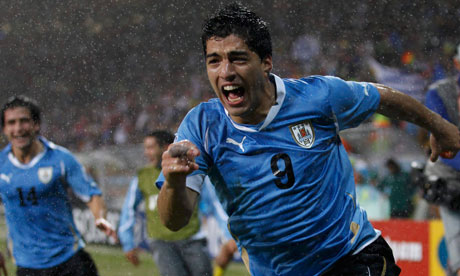 Two of the three goals in this game were a result of goalkeeping errors in my opinion. Uruguay opened the scoring on the eight minute mark when Forlan fired in a cross behind the static South Korean defence. Sung-Ryong Jung in goal moved out towards the ball but got nowhere near it leaving Suarez with an empty net to aim at (and from a tight angle he made it look easy). The second goalkeeping mistake came in the second half when Victorino partially cleared a free-kick, heading the ball high into the air, Muslera came out but was never going to get hold of the ball - instead presenting a routine header for Lee Chung-Yong to equalise.
There was nothing to be critical of with the winning goal however. Suarez created space for himself and sent in a stunning, curling shot that nestled in the top right hand corner. It was a goal worthy to win a World Cup knock-out match.
Another observation I would like to make is that when Uruguay were winning 1-0 they sat back on their lead and were content to defend it. In the first half South Korea did not create many opportunities but they came into it more in the second half. Uruguay looked comfortable but not particularly threatening. The equaliser was a statement to everybody as to why it is not the right strategy to sit back on your laurels when you have a one goal advantage. Ultimately it didn't harm Uruguay's progression but hopefully they have learnt their lesson on this one.
Suarez was the key man for the game and Uruguay were worthy winners. South Korea did however play some good stuff particularly in the second half - making. Park Chu-Young was South Korea's best player. That is no surprise as he has been their most impressive performer throughout the World Cup - only narrowly missing out on my "team of the group stages".